Exhibition at
INAX Gallery,
(August 2005)

Is Koichi San looking for the cones ?!

A few pieces I made in Tokoname, fired in the 2.5m3 wood kiln we built in 3 weeks time... Exhibition at the "Tokoname Yakimono Matsuri" (Annual National Ceramics Festival).
We are building the IWCAT's anagama's vault.
Built to last 20 years !
With local volunteers my discussions in japanese was a little sketchy but I improved...
In the local newspaper...

White glaze bowl on Tokoname's high iron content clay.


In Shigaraki, making some tanuki friends !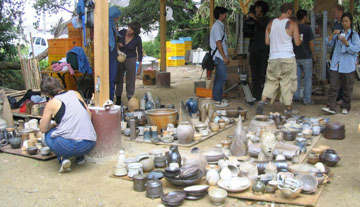 Unloading... A lot of surprises !

A lot of different clays and the first firing of a new kiln... give a lot of surprising results !